​
Passionate about protecting kids from too much time online?
Have you seen the impact first hand about the BIG BENEFITS?
Been victim to dealing with the fallout of overuse, encountered predators, or witnessed other big problems time online inevitably creates?
​
Does this sound like you?! If so, let's talk about becoming a
Screen Time Clinic Certified Digital Wellness Educator!!
​
You LOVE inspiring & helping people, particularly kids & families.

Your advice, guidance, and insight helps improve people's lives and you want to do MORE without having to start from scratch- particularly about screens!

You KNOW time offline helps kids (and adults!) grow, learn, and thrive OR want to learn MORE about it to help your family and others?

Your TIME is valuable and you should be well compensated for your knowledge and ability to connect with others in a meaningful way.

You crave the support of a TEAM to maximize your advocacy efforts.​
​
​
​
Become a Screen Time Clinic coach & educator and take your passion (income potential) to the next level!​
👩🏻‍🏫 Teachers– You are experienced in helping children and communicating with parents, this would be a great side hustle or even full time job eventually!
​
👩🏽‍⚕️ Therapists, PTs, OTAs and Counselors– You see the negative impact screen time has on development and mental health, add another level of authority to your advice about screens and utilize our resources to guide families
​
👩‍👧‍👧 Parents– You want to be there for your kids, but you'd also like to earn an income from the positive impact your inspiration will have people's lives. You want to help others learn from your wins and mistakes with systematic guidance.​
---
You want more ways to advocate for a screen-light lifestyle, without the hassle.
---
​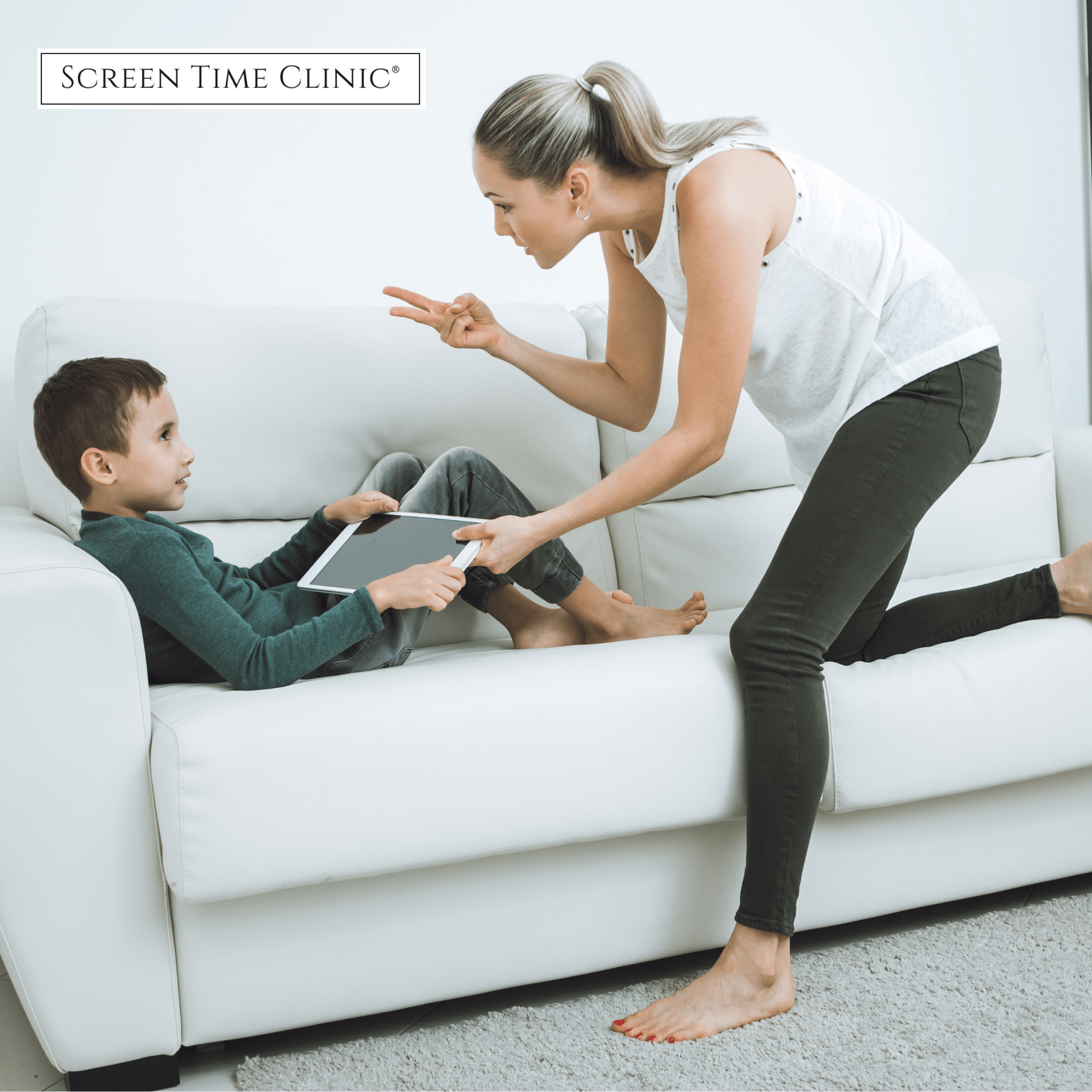 Screen Time Clinic® (STC) Success Coaches are passionate about digital wellness and helping families create healthy boundaries with technology WITHOUT constant conflict, achievable through INTENTIONAL planning and clarifying family values that translate into strategic home routines.
​
Coaches address the impact of video games, social media, and technology. Coaches then empower parents to make real, lasting changes in their homes. Coaches improve lives through digital wellness interventions and ongoing support. Your guidance IS VALUABLE.
Interested, but you're not sure where to start?
​
For $42/mo you can become an STC Success Coach & Educator:
​
Set your own schedule and receive free business tools & coaching.

Choose to work 1:1 with people, lead small groups, or teach seminars.

Coach in-person or virtually with tools that would take you years to develop.

Create work-life balance that suits your family without buying a high a cost course

Be appreciated for making a big impact, screen time is the #1 parent concern yet less than 50% of parents feel empowered to effectively regulate it
​
​
​
"As a single mom I wish I would have known sooner how to really put a plan together for my son's technology use. But now, with the help of Screen Time Clinic®, we are on the same page moving forward!"
❌ No need to start from scratch or technical expertise needed
​
❌ No startup fees, gimmicks, monthly quotas or hard sells
​
​
​Why Join The Screen Time Clinic® Team?
​
Joining our team is more than just taking on another job or side-hustle. Coaches are an integral part of our collective mission: Teaching healthy screen habits and improving people's lives.
​
Nicole Rawson, the founder of the Screen Time Clinic®, personally guides each STC Success Coach and ensures you have everything you need to grow your business.
​
This 1:1 mentorship and coaching is incredibly valuable when starting your business offered only to those who have a passion for making change.
​
The Screen Time Clinic® expanded as a woman-owned and people-focused small business & has expanded into an international network with the sole purpose of improving lives through digital literacy and healthy screen habits.
​
You are joining a growing network of dedicated, powerhouse coaches in a rapidly evolving niche-specialty.​
​
​
As part of the team, you will have exclusive access to:
​
Pre-Made Presentations on Different Topics, Templates, and Designs

Marketing Materials via Trello Superior Organization System

Use of sponsored copies of Screen Smart Sam children's book

Access to experts & resources in our network & virtual co-workers

Business goal setting, systems, and coaching

Resources, research, and best practices

Private Facebook group "Screen Smart Families" to market yourself

Private Facebook group for our network of collab-minded coaches

Established Social media presence, use of past posts & templates

Engagement pods and design assistants
​
You'll have everything you need to run your own educational consulting business, professionally branded as a Screen Time Clinic® Digital Wellness Education Specialist.
​​
Our network of coaches are leaders in their communities. Coaches use evidence-based information about digital wellness to change lives.
​
But you know what? Our Success Coaches started out just like you.
​
All you need to get started is a passion for helping others lead healthier, more balanced lives. And the work ethic, and time to invest to support your dreams of being your own boss.
​
Your first month's payment is due AFTER your first 30 days startup for free.
In some special cases it can be waived for longer.
​
Getting started for free sounds too good to be true right?
It is, which is why we won't be offering this introductory offer for long.
But we believe in our mission, and we know that right now, more than ever, families need your services to help them regain control of their screen time habits.
​
We're on a mission to change people's lives, and we want you to join us.
​
​
​
You don't need to be a business expert to start your STC Success Coaching business. You just need a genuine passion to help others and time to invest in yourself.​
​
We are invested in the success of YOU, our coaching team to reach more families than we could on a smaller scale or alone.
​
Joining the Screen Time Clinic® will save you thousands of dollars in start-up costs. Sure, you could do it on your own, but it's expensive and tough!
​
Here are some costs to consider if starting solo:
New Website $150-500/mo

Company name registration & trademark $5000 upfront

Email addresses, domain names $50/mo

Website maintenance $200-$800/mo

Logo creation $100- $2500

Social media management & content creation $800/mo

Business coaching $250/hour, $1000/mo

Tech help if you aren't savvy online or cost of ads $500/mo

Marketing manager $600/mo

Virtual Assistant $500/mo

Endless hours online figuring things out– losing time you could be spending with family, creating your own material

Scrambling to get clients because you NEED to offset your costs

The cost of your wellness. Starting from scratch is stressful and exhausting.

Countless money lost or unearned due to trial and error on your own
​
Running a business can get expensive...fast. Plus, how do you avoid being scammed by any one of the freelancers offering all these services?
​
Thankfully, there's a better way to professionally market yourself...
​
Join the Screen Time Clinic® team. We're better together.
Screen Time Clinic® is an established name with a track record of success.
​
​
Here are some of the many benefits you'll receive as part of the Screen Time Clinic® team:
​
A smooth onboarding process. Laying a solid foundation.
Step by step guidance.
Professional social media posts created for you.
Branding and marketing ready for you to use.
Your business listed on the Screen Time Clinic® website for referrals and increased visibility.
ONE HOUR a week for the first 60 days of 1:1, high performance business coaching, a $1600 value.
Exclusive copies of Screen Smart Sam children's book as outreach tool.
Copyright permissions to read Screen Smart Sam in groups and online.
Support to expand into corporate wellness coaching.
Contracts, outreach letters, forms, and templates already made for you.
​
We have a growing online community of parents who are LOOKING for help reducing screen time and improving their families relationships and their boundaries with screens. It's not easy to start or keep new habits!
We help you find your business sweet spot. The area where your passion and skill set align so you'll be most successful and fulfilled.
​
​
Want to know more about the expert guidance and business coaching You'll receive as a new coach?
​
Some start-up courses give you online lessons, but no personalized help or access to the expert in your field. You're left on your own to figure out how to use your new knowledge.
​
Screen Time Clinic® is different. We are invested in you for the long haul.
​​
This is not a course that you'll take and then be left to figure out the details on your own. You will be personally guided through onboarding, building, and establishing your business. Nothing lost, everything to gain.
​
​
Nicole Rawson, founder of the Screen Time Clinic® is a former teacher, motivational speaker, author, business coach, and parent. She has an MBA from Rice University and has built multi-million dollar real estate teams before turning her attention to the digital wellness industry. She saw the desperate need for more "agents of change" in every city acting as coaches, supporting every school, and local parents. She will personally be there to guide you through the process. You will have access to her coaching, expertise and experience running successful businesses and coaching practices.
​
Online or in-person, we will use our voices together as a force multiplier. We will stand up for what we know is best for our children. We are supported by research yet constantly undermined by big tech. Together we can make long-lasting changes in families all over the world.
​
Nicole provides high-end busienss coaching services for STC Success Coaches to increase your success and to maintain the integrity of the Screen Time Clinic® Name. Everybody wins when the team is strong.
Professional business coaching often costs HUNDREDS or THOUSANDS of dollars a month.
​​
Career pivots and assistance starting a business often require another degree or $2,000 courses to help you get started.
​
​
​
Get started today with Screen Time Clinic to do MORE with less work!
​
​
---
Do I Have to Pay to be Part of the Screen Time Clinic® Success Coaching Team?
---
We are committed to building a strong, diverse, global team at Screen Time Clinic®. We want coaches to have a solid foundation and business plan. This is why for a limited time, we aren't charging any start-up fees.
As you can imagine, this fee free structure can't last forever but you can take advantage of it NOW.
​
​​
​
​
---
Is Screen Time Clinic® an MLM company?
---
Nope. Not at all.
​
There's no...
Pyramid

Uplines or downlines to maintain.

Product to keep in stock.

Minimums to meet or lose your status.

Hosting "parties" to try to sell to your friends.

Need to recruit your friends to join your team.
​
​
So why will I pay to be part of the Screen Time Clinic® if it's not like a MLM?
​
You're paying for the brand, team support, and backing of our company, and all the perks that come with a foundation that's already set for you. Just like a desk fee real-estate agents pay when they join with agencies or revenue split, giving you the ability to keep more of the money you earn. STC is not like tutoring companies that keep the majority of fees you would earn or companies that hire on salary and pay employees a small amount compared to the overall take.
​
​
More flexibility, more income - greater reach​
​
You will benefit from the brand name, the marketing materials and training, but ultimately, you will own your own business. You will be able to grow your own business and reap the rewards from all your efforts.
​​
​
STC Success Coaches help each other, support each other, and collaborate to promote growth for everyone. There are enough clients for all, and teamwork will help us impact so many more families than any of us could do on our own.
​
​
How soon can I quit my job after joining Screen Time Clinic®?!?​
​​
Hold up. Don't quit your day job just yet. Let's be realistic.
​
​
We want you to be strategic about your STC Success Coaching business and growth.
​
This is not a get-rich-quick scheme or a passive income stream where you won't do any work.
​
Becoming a STC Success Coach is playing the long-game of starting your business.
​
It's quite possible to find clients quickly, especially if you have a lot of connections in your community and through your social media networks. Coaches with credentials in the healthcare fields such as OT/PT/SLP have automatic authority in the field, parents have a huge network of other parents, schools, and youth groups!​
​
​
It's important that you, our coach, be fairly compensated for the valuable work you do. Our minimum hourly rate is $90/hour, with more affordable group coaching options to ensure everyone has access to coaching but our coaches are fairly compensated for their time.
​
Depending on the city you live in or clientele you intend to support, it is not unusual for schools to pay $1000 for 2 hours of specialized seminar time. In California cities, the hourly parent coaching rate is $250-$300/hour.
​
So...if you had 15 coaching sessions a week at $250 each, you could earn $195,000 in a year. This isn't counting any group sessions, or other income streams. Your income really depends on how you structure your business and how hard you're willing to work.​
It is completely possible to build and scale a STC Success Coaching business that can replace your regular income, or provide a supplement to your existing income. Your growth and income depend on your willingness to put in work and grow your business. There are many full time digital wellness coaches that have regular income from recurring clients and seminars booked year after year.
​
​
​
Screen Time Clinic® Success Coach Success Stories
​
"I've always felt strongly about preventing adverse experiences for children and screens, actively involved in school initiatives around this topic and others. Now that my children are older I have time to help others AND be compensated for the expertise I've gained over the years. Nicole has helped me see the value in what I bring to my community and strategically offer my services to schools, businesses, and families in need. It makes me feel great being part of the STC Team and was a lot easier to get started than I thought it would be!" ​ -Gretchen Kansas City, KS
"Nicole is so much fun to work with, this is an important topic that I'm so happy to be positioned as a resource to the schools and families in my community! I wish there was a Screen Time Clinic® in my town when my daughter was young, it's something every parent should know exists and have access to support!" ​ -Darci Tucson, AZ.
​
​
Find out more about joining our team, and apply to start your journey to becoming a STC Success Coach. We would love to hear YOUR story!
​